Biology
Get the science behind
Biological Area
The Biological Area is part of the 3D printed CubeLab Insert, it will hold 10 plants. The plants will be glued to a sheet of filter paper. The filter paper will be placed onto agar, which will be used as plant medium to provide nutrition and water to the plants. The agar will fill the bottom 3cm of the Biological Area. The bacteria will be spread directly onto the roots of the plants. On top of the filter paper and the plant roots we will place a perforated plate which will prevent the light from reaching the roots. The plate will have 16 holes with a diameter of 5 mm, where the stems of the plants will be guided through. Next to each 5 mm hole will be 15 holes with a diameter of 2 mm, where the roots will be placed, to allow the bacteria to bind the air nitrogen. The Biological Area is closed on top by the Light Module, a Printed Circuit Board (PCB). On the right side the Biological Area it is closed with a Makrolon window, which allows us to take photos of the plants. A Fan in the Electronic Area enables air exchange from the Biological Area to the Electronic Area, therefore are also slots in the Makrolon Window. Air exchange is important so that the sensors in the Electronic Area can measure the composition of the air and the temperature.
Medicago truncatula
Medicago Truncatula, also known as strong-spined medick, barresl medic or barresl medick.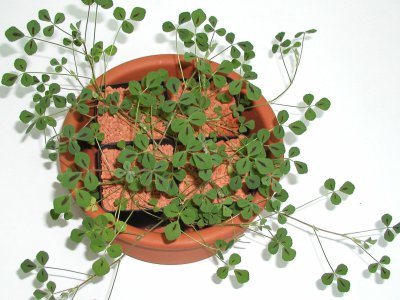 Profile
| Name | Medicago Truncatula |
| --- | --- |
| Kingdom | Plantae |
| Order | Fabales |
| Family | Fabaceae |
| Subfamily | Faboideae |
| Tribe | T... |
Sinorhizobium meliloti
Forming a symbiosis of Medicago truncatula and Sinorhizobium meliloti is not special in nature. All species who manage to create a co working existence with other species get lots of benefits, which gives them an advantage over other species.
In the case of M. truncatu...
Bio team - Labor
Before Medicago truncatula can travel to space it has to prepared for the experiment. After the flight, all the analyses have to be done, too. And all of that will happen in the labour! So, the work in the labour is one of our most important place, to perform all the necessary st...